The Best Dental Laboratory Experience
Lab Location
Branley's Yard, Rathcormack, Drumcliff, Co. Sligo, Ireland, F91 P9RR
Welcome to Our Dental Laboratory
Based near the foot of beautiful Ben Bulben in Sligo, Ruedel Dental Laboratory has been in business for almost thirty-four years, offering a professional service to the dental sector.
The Lab is owned and run by Matthias Ruedel, a native of Hamburg, Germany, but living in Ireland for over thirty-four years.
Matthias trained at Hargemann Dental Laboratory and the Hamburg Dental Training School for four years, graduating as a dental technician. He worked in several dental labs in Hamburg for a time, before setting up his own dental laboratory in Ireland in 1982. Matthias strives for high quality in the laboratory, producing products that satisfy both the dentist and the patient.
The laboratory has a staff of five, with three fully-qualified dental technicians, and an administrative assistant.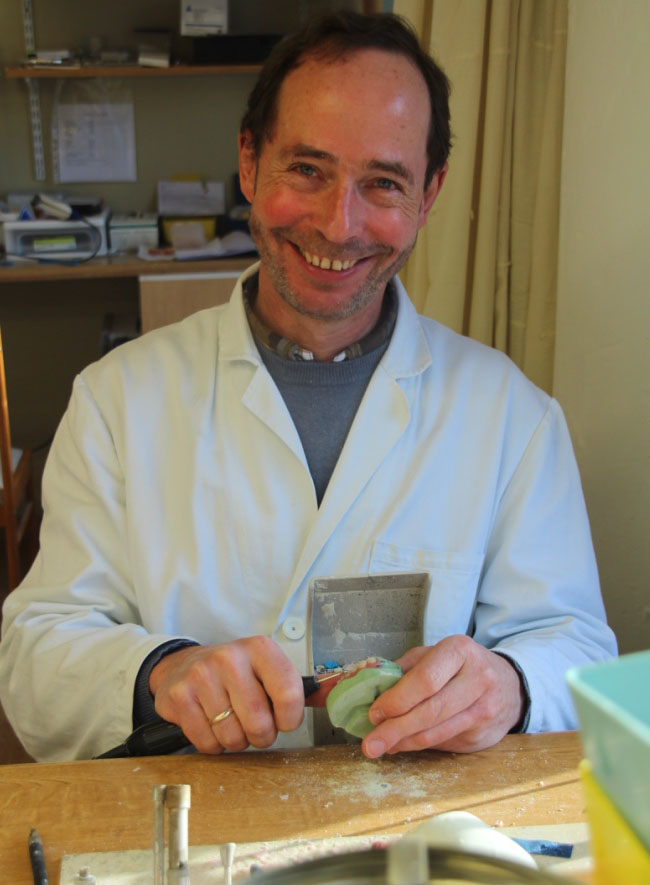 Chrome Cobalt Dentures
At Ruedel Dental Laboratory we manufacture chrome-cobalt dentures, full and partial dentures, and more recently, high-quality IvoBase prosthetics.
3-D thermoforming
The recent acquisition of the Erkodent 3-D thermoforming unit enables us to provide all types of splints and bleaching trays, with superb patient fit.
IvoBase Dentures
These superior-quality dentures are made with high-impact acrylic.
They have extremely low shrinkage which enables the fabrication of denture bases featuring high accuracy of fit and precision.
For patients, this means they are very comfortable to wear. Due to excellent fit, dimensional stability and surface finish.

For the dentist, they are economical since the finished work corresponds to the wax-up.
They offer an optimum solution for a variety of patients. 
Staff training with Ivoclar means the Lab is certified as an Ivoclar BPS (Biofunctional Prosthetic System) centre. 
Another feature of this personalised service is optional individual gum characterisation.
Why Choose Ruedel Dental Laboratory
We offer a personal service.
Telephone support for challenging jobs.
Quick turn-around time guaranteed.
Saving you money and time.
Competitive prices, with top quality.
Materials are traceable and CE compliant.
No risk to your patients.
An Irish-owned local business
What Our Dentists Say
I have worked with Ruedel Dental Laboratory for over ten years. During this time I have found Matthias and his team to be helpful and accommodating in my dealings with them, and the work received from the Lab has been of a high standard. This has led to the establishment of a positive and satisfactory working relationship.
Patrick Wiseman BDS, Dental Surgeon, Castlebar
I have worked with Mathias Ruedel and his laboratory for a number of years. The work is always of a consistently high standard and arrives on time. I am very happy to recommend Mathias and his team.
Maurice FitzGerald, FitzGerald & Cleary Dental, Sligo
I have worked with the team at Ruedel Dental Laboratory for more than 10 years now. During that time we have formed a strong, trusting relationship. Matthias has built a team that is always friendly, professional & helpful. The quality of their work & craftsmanship is always of the highest order while the fit & finish is always exemplary. I look forward to many more years of cooperation with the team at Ruedel Dental, in striving to provide the very finest dental prostheses for my patients.
Dara Reynolds, Errigal Dental, Donegal.
I have been working with Matthias and his team for 13 years now, and always feel that his laboratory complements my high standards. He does things in a very professional manner and is always happy to liaise with me to ensure quality results are achieved. I would highly recommend Matthias and his team.
Mark Alexander, Ice White Dental Surgeons, Boyle, Co Roscommon.